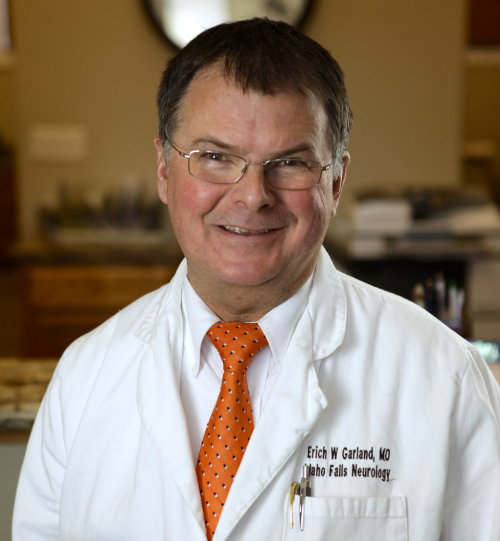 Dr. Erich Garland, MD, FACP, FAAN, FFSMB
---
Physician
Neurology
---
Provide Feedback
---
Idaho Falls Neurology
3920 Washington Parkway
Idaho Falls, Idaho 83404
[MAP]
Website
Medical Expertise of Dr. Erich Garland, MD, FACP, FAAN, FFSMB
Dr. Erich Garland diagnoses, treats and manages a variety of neurologic conditions. He treats adults and children for epilepsy migraine headaches, peripheral nerve disorders, multiple sclerosis, neurorehabilitation, Parkinson's disease, tremors, sleep disorders, and stroke.
About Dr. Erich Garland, MD, FACP, FAAN, FFSMB
Dr. Erich Garland, MD is a board-certified Idaho neurologist providing care to patients at Idaho Falls Neurology where he serves as Medical Director.

Dr. Garland graduated medical school from Texas Tech University School of Medicine. Dr. Garland completed an internship at the Texas Tech University Health Sciences Center and completed residency at the University of New Mexico Hospital and School of Medicine.


Conditions Treated
Alzheimer's Disease
Diabetic Neuropathy
Epilepsy
Headaches
Multiple Sclerosis
Parkinson's Disease
Restless Leg Syndrome (RLS)
Spasticity
Stroke
Procedures & Services
EEG (Electroencephalogram)
MRI of the Head (Magnetic Resonance Imaging)
Electromyogram (EMG)
Stroke Rehabilitation
Patient Education Resources
Professional Affiliations