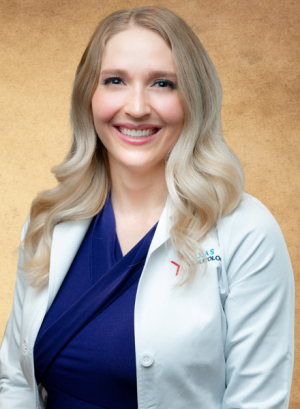 Dr. Carolyn Robinson, DO, FAAD
---
Physician
Dermatology
---
Specialty
Dermatologic Surgery,
General Dermatology,
Mohs Surgery
---
Texas Dermatology
3320 Oakwell Court
San Antonio, Texas 78218
[MAP]
Website
Medical Expertise of Dr. Carolyn Robinson, DO, FAAD
Dr. Robinson has extensive experience in diagnosing and treating both benign and malignant skin conditions
About Dr. Carolyn Robinson, DO, FAAD
Carolyn A. Robinson, DO, FAAD, is a board-certified dermatologist and fellowship-trained Mohs surgeon at Texas Dermatology. Dr. Robinson promotes leadership in dermatology and excellence in patient care as an Assistant Professor of Dermatology for the Uniformed Services University of the Health Sciences and Associate Program Director of Quality Improvement and Patient Safety for the Dermatology Department at the San Antonio Uniformed Services Health Education Consortium. Dr. Robinson has had multiple publications in peer-reviewed journals such as Dermatologic Surgery. She is dedicated to patient-centered care and helping her patients look and feel their best.
Conditions Treated
Acne
Acne Scars
Fungal Nail Infection (Onychomycosis)
Hair Loss (Balding)
Psoriasis
Rosacea
Skin Cancer
Warts
Procedures & Services
Mohs Surgery for Skin Cancer
Phototherapy for Psoriasis
Patient Education Resources
Education & Training
Dr. Robinson majored in Evolutionary Anthropology at Duke University. She obtained her medical degree at the Lake Erie College of Osteopathic Medicine in Bradenton, Florida. Dr. Robinson completed a transitional internship and dermatology residency at the San Antonio Uniformed Services Health Education Consortium and served as Chief Resident in her final year. She completed a fellowship in Micrographic Surgery and Dermatologic Oncology at the University of Iowa Hospitals and Clinics where she trained in the Mohs technique for the precise removal of skin cancer and reconstructive surgery.
Texas Dermatology

At Texas Dermatology, we seek to deliver the highest quality of skin care for multiple generations of Texans. We aim to provide a team-oriented and productive work environment. We strive to be a responsible corporate citizens and contributing members of the community through education, research, and service.