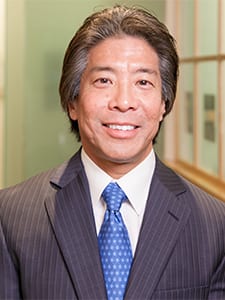 Dr. Paul Yamauchi, MD, FAAD
---
Physician (MD, DO)
Dermatology
---
Specialty
General Dermatology
Provide Feedback
---
Dermatology Institute & Skin Care Center
2001 Santa Monica Boulevard Suite 490W
Santa Monica, California 90404
[MAP]
Website
Medical Expertise of Dr. Paul Yamauchi, MD, FAAD
Dr. Paul Yamauchi specializes in the treatment and management of psoriasis, offers advanced techniques for skin rejuvenation, and is involved in multiple clinical trials.

Dr. Yamauchi is a professional member and serves on the President's Council of the National Psoriasis Foundation.
About Dr. Paul Yamauchi, MD, FAAD
Paul Yamauchi, MD, Ph.D, is a Board-Certified Dermatologist providing medical care to patients in the Santa Monica, CA area at Dermatology Institute and Skin Care Center.

Dr. Yamuchi is recognized as a key expert leader on psoriasis and is on the Medical Board for the National Psoriasis Foundation. He has extensive experience using the new biologics, oral drugs, and topical medications in the treatment of psoriasis, and has been invited as a speaker at international, national, regional, and local venues to talk about new advances in the treatment of psoriasis.

Dr. Yamauchi serves on the editorial board of the Journal of Cosmetic and Laser Surgery and The Scientific World Journal. He is the author and co-author of more than 50 publications, including several books.

Dr. Yamauchi has also spoken on other dermatologic conditions at national and local meetings and has published many peer-reviewed articles including acne, eczema, skin manifestations associated with rheumatologic conditions, and hyperhidrosis. He conducts numerous clinical research trials at the Clinical Science Institute in Santa Monica. He serves as a principal investigator in several studies including new therapies for psoriasis, skin cancer, eczema, and acne. Dr. Yamauchi has been a consultant for the development of new innovative therapies in dermatology.
Conditions Treated
Psoriasis
Atopic Dermatitis
Psoriatic Arthritis
Skin Cancer
Procedures & Services
Biologic Medications for Psoriasis
Biologic Medications for Psoriatic Arthritis
Botox® Cosmetic
Juvederm®
Tips & Wisdom
Biologics - Are They Right for You?
If you have moderate to severe psoriasis or psoriatic arthritis, you've probably considered a biologic treatment. Dr. Paul Yamauchi, Medical director of Dermatology Institute and Skin Care Center of Santa Monica, provides an informative discussion of biologic treatments. Whether you are considering starting on a biologic, have been receiving one for a long time, or are interested in the next generation treatments coming down the pipeline, this webcast presentation will be one to watch. ...
Patient Education Resources
Adult Acne Treatment Options
The surge of hormones that triggers puberty also triggers acne. But once your hormones settle, your skin often does, too. But that's not always the case. Many adults still have acne outbreaks. That often includes women in their perimenopause years, along with plenty of men. In fact, no matter what your age or sex, you might find yourself with an unwanted acne lesion somewhere on your face or body. Wash your mask (or equipment) Since the COVID-19 pandemic, reports of "maskne&...
Our Thoughts on Coolsculpting
When diet and exercise alone aren't enough to trim the fat, CoolSculpting® comes to the rescue. CoolSculpting is a non-invasive body sculpting technique that gives you control over your physique. CoolSculpting is an FDA-approved treatment that uses a patented process called cryolipolysis to "freeze" away your fat. By lowering the temperature of fat cells to the point where they cannot function, the CoolSculpting treatment devices remove up to 25% of excess fat in the tre...
Education & Training
Dr. Yamuchi earned his B.S. in biochemistry at the University of California at Los Angeles and completed his Ph.D. in biologic chemistry at the University of California at Santa Barbara. He completed his medical degree (M.D.) Case Western Reserve University School of Medicine. He completed his residency in dermatology at UCLA School of Medicine. Dr. Yamauchi went on to complete a fellowship in cosmetic surgery affiliated with UCLA School of Medicine.
Professional Affiliations
Dermatology Institute & Skin Care Center

Dermatology Institute & Skin Care Center in Santa Monica, California, specializes in cosmetic, medical, and surgical dermatology. Led by board-certified dermatologist Paul Yamauchi, MD, PhD, the practice offers state-of-the-art dermatology services to provide the highest quality skin care possible.
The practice focuses on medical dermatology, with an emphasis on diagnosing and treating skin conditions like eczema, psoriasis, hair loss, and acne and rosacea. Patients can also visit the practice for regular skin checks. If a suspicious lesion or skin cancer is found, treatment like precise and effective Mohs surgery is available.