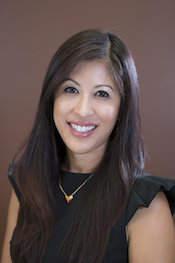 Camille Flemate, PA-C
---
Physician Assistant (PA)
Dermatology
---
Provide Feedback
---
Kalia Dermatology
15055 Los Gatos Blvd.
#100
Los Gatos, California 95032
Website
About Camille Flemate, PA-C
Camille Flemate, PA-C is a board-certified Physician Assistant specializing in Dermatology providing care to patients in the Los Gatos area at Kalia Dermatology.

Camille earned her Bachelors of Science Degree in Biology from Santa Clara University and her Masters Degree in Physician Assistant Practice from the University of Southern California (USC).

Working as a Physician Assistant has been the most rewarding experience. Working the past 10 years in medical and cosmetic dermatology has provided me with an excellent foundation to treat both rare and common skin disorders.
Conditions Treated
Acne
Aging Skin & Wrinkles
Allergic Contact Dermatitis
Atopic Dermatitis
Hair Loss (Balding)
Psoriasis
Rosacea
Seborrheic Keratosis
Skin Cancer
Warts
Tips & Wisdom
Treatment for Hair Loss
After a comprehensive evaluation a Kalia physician will provide options for treatments that match your comfort level and help you see optimal results. There are many options to help with Alopecia such as topical and oral prescriptions, or minimally invasive treatments such as PRP (Platelet rich Plasma) injections. Platelet Rich Plasma (PRP) PRP is an effective treatment for hair loss that uses your body's own growth factors to stimulate the growth of your hair. One of our highly ...
Patient Education Resources
Treatment for Excessive Sweating
Excessive Sweating Want to stop telegraphing your nerves on that special date? Want to present your breakthrough idea to your boss without showing wet marks? At Kalia Dermatology and Laser Center in Los Gatos, California, our physicians can offer a variety of prescription treatments to all of our patients from the San Francisco Bay Area. What is Hyperhidrosis Hyperhidrosis is the medical term for excessive sweating which can occur on the hands, back, under arms, groin, feet, and under...
Kalia Dermatology

Welcome to Kalia Dermatology. Having a strong and healthy body is everything. Take care of yours with the help of Kalia Dermatology and Laser Center. We can address your medical skin, hair and nail concerns and accept most PPO insurance plans. We believe in a practice philosophy that is a blend of personalized care, communication, and attentive service. We also offer a wide variety of exciting cosmetic treatments to give you that youthful look.

At Kalia Dermatology and Laser Center, we are passionate about ensuring that you emerge from every visit to our center with rejuvenated and healthier skin. We specialize in cosmetic procedures that are safe, non-invasive, and have minimal downtime. Our clients enjoy the most advanced skin care treatments in a relaxing spa-like atmosphere in our brand new 6500 sq foot facility.

Our team is lead by Dr. Iris Gin, a board-certified dermatologist who has been practicing in the south bay since 1999. She is also the NBC Bay Area Living Well Expert in the field of dermatology and has been featured on many news programs on the latest advances in cosmetic dermatology.