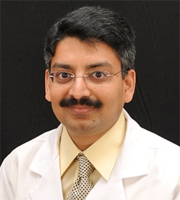 Dr. Abhay Agarwal, MD
---
Physician
Internal Medicine
---
Provide Feedback
---
Cary Medical Clinic, PC
550 New Waverly Place
Suite 105
Cary, North Carolina 27518
Website
About Dr. Abhay Agarwal, MD
Dr. Abhay Agarwal, MD is a board-certified internist providing care to patients in Cary, North Carolina at Cary Medical Clinic.

Conditions Treated
Acid Reflux (GER / GERD)
Asthma
COPD (Chronic Bronchitis, Emphysema)
Coronary Artery Disease (CAD)
Diabetes - Type 2
High Blood Pressure (Hypertension)
High Cholesterol (Hypercholesterolemia)
Osteoarthritis
Osteoporosis
Overweight and Obesity
Procedures & Services
Cancer Screening
Patient Education Resources
Education & Training
Residency in Internal Medicine: Episcopal Hospital-Jefferson Medical College of Thomas Jefferson University

Cary Medical Clinic, PC
Our practice has a long-standing commitment to medical excellence and attention to detail. We stress concern and personal care, while adhering to conservative medical ethics. We utilize modern medical techniques to ensure you the highest quality of care and least amount of discomfort.
We at Cary Medical Clinic specializes in General Health, Prevention & Wellness, Immunizations, Work/School/Travel Exams, Diabetes & Blood Sugar Management, Physical Exams, and Same Day Sick Visits.