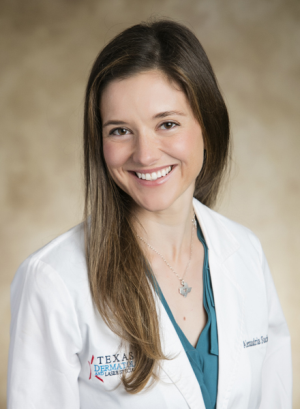 Alexandria Suchecki, PA-C
---
Physician Assistant (PA)
Dermatology
---
Texas Dermatology
3320 Oakwell Court
San Antonio, Texas 78218
Website
Medical Expertise of Alexandria Suchecki, PA-C
Alexandria focused on the treatment of skin cancer and provision of cosmetic procedures.
About Alexandria Suchecki, PA-C
Alexandria Suchecki, PA-C is a certified Physician Assistant providing dermatology care to patients in San Antonio at Texas Dermatology under the supervision of Dr. Browning.
Conditions Treated
Acne
Aging Skin & Wrinkles
Allergic Contact Dermatitis
Atopic Dermatitis
Hair Loss (Balding)
Psoriasis
Rosacea
Seborrheic Keratosis
Skin Cancer
Warts
Procedures & Services
Botulinum Toxin for Cosmetic Uses
Juvederm®
Patient Education Resources
Education & Training
Alexandria completed her undergraduate education at Pepperdine University with a degree in Sports Medicine prior to completing her Master's in Physician Assistant studies at Nova Southeastern University in Fort Myers, Florida.
Texas Dermatology

At Texas Dermatology, we seek to deliver the highest quality of skin care for multiple generations of Texans. We aim to provide a team-oriented and productive work environment. We strive to be a responsible corporate citizens and contributing members of the community through education, research, and service.