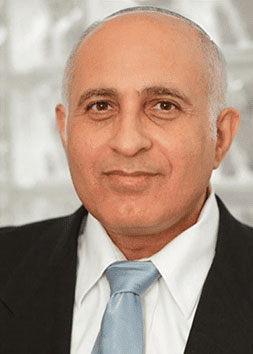 Dr. Eliot Ghatan, MD
---
Physician
Dermatology
---
Specialty
Cosmetic Dermatology,
General Dermatology
Provide Feedback
---
Dr. Ghatan Dermatology, Cosmetic & Laser Surgery
1226 Ocean Parkway
Brooklyn, New York 11230
Website
Medical Expertise of Dr. Eliot Ghatan, MD
Dr. Eliot Ghatan has over 25 years of experience specializing in dermatology, laser services, cosmetic surgery, and skin cancer surgery.
About Dr. Eliot Ghatan, MD
Dr. Ghatan is a board certified dermatologist with more than 15 years of exprience in dermatolgy & cosmetic surgery. Prior to his training in dermatology, Dr. Ghatan had special training in Surgery at Einstein and Montefiore Hospitals, completed a residency in Medicine, as well as a residency in Primary Care Medicine.
Dr. Ghatan is extensively involved in a variety of clinical researches and lectures frequently. In addition to having his work published in medical journals, Dr. Ghatan is author of the book "The Invaluable Pearl" (Bloch Publishing, New York, NY) Dr. Ghatan also authored "Dermatological Differential Diagnosis & Pearls" (Parthenon publishing, New York, NY) which is widely used by doctors in the US and overseas to train in Dermatology.
Conditions Treated
Acne
Aging Skin & Wrinkles
Allergic Contact Dermatitis
Atopic Dermatitis
Hair Loss (Balding)
Psoriasis
Rosacea
Seborrheic Keratosis
Skin Cancer
Warts
Procedures & Services
Botox® Cosmetic
Juvederm®
Laser Hair Removal
Laser Resurfacing
Laser Skin Rejuvenation
Laser Treatment for Spider Veins
Patch Testing for Contact Dermatitis
Patient Education Resources
Education & Training
Dr. Ghatan received special training in surgery at the Albert Einstein College of Medicine in New York and the Montefiore Medical Center Moses Division. He completed a residency in medicine and in primary care medicine.
Dr. Ghatan graduated from the Albert Einstein College of Medicine in New York and finished a dermatology residency with some training in plastic surgery at McGill University in Canada. He's board-certified in the United States and by the Royal College of Physicians & Surgeons of Canada.
Dr. Ghatan has served as the dermatological surgeon for the Brooklyn Veterans Administration Hospital and the attending dermatologist at the Brooklyn Hospital. He was also the clinical assistant professor of dermatology at the SUNY Downstate Medical Center. Dr. Ghatan is a consulting dermatologist at Mount Sinai Beth Israel and the Maimonides Medical Center.
Dr. Ghatan Dermatology, Cosmetic & Laser Surgery

Dr. Ghatan Dermatology, Cosmetic & Laser Surgery is a high-end clinic renowned for high-quality individualized service, innovative advanced technology and equipment, and a welcoming and calming atmosphere.
Dexterous and efficient dermatologist and dermatological surgeon, Eliot Y. Ghatan, MD, FRCPC, works alongside skilled health professionals, providing various aesthetic treatments, cosmetic surgery, dermatological services, and more in Ocean Parkway, Midwood of Brooklyn, New York.
Dr. Ghatan Dermatology, Cosmetic & Laser Surgery utilizes state-of-the-art equipment, tools, and technology and upholds the strictest sterilization techniques. Skin rejuvenation, dermal fillers, facial peels, laser hair reduction, laser skin resurfacing, microdermabrasion, liposuction, tattoo removal, eye and brow lift surgery, male and female rejuvenation, allergy testing, and other effective services are all available.