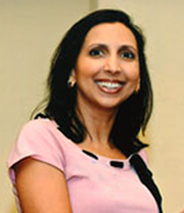 Dr. Miriam Anand, MD, FACAAI, FAAAAI
---
Physician
Allergy
---
Provide Feedback
---
Aspire Allergy & Sinus
1006 East Guadalupe Road
Tempe, Arizona 85283
Website
Medical Expertise of Dr. Miriam Anand, MD, FACAAI, FAAAAI
Miriam Anand MD, FACAAI, FAAAAI is a board-certified allergist serving the cities of Chandler, Mesa and Tempe Arizona.
Dr. Anand was on the Super Doctors® List in AZ Magazine from 2012-2014 and was awarded the Top Doc by Phoenix Magazine in 2010, 2016 -17.
About Dr. Miriam Anand, MD, FACAAI, FAAAAI
Dr. Miriam Anand is a member of the American College of Allergy, Asthma and Immunology, American Academy of Allergy, Asthma & Immunology, American College of Physicians, and is the president of the Arizona Medical Association.
Conditions Treated
Allergic Conjunctivitis
Allergic Contact Dermatitis
Allergic Rhinitis
Anaphylaxis (Anaphyactic Shock)
Asthma
Atopic Dermatitis
Food Allergy
Hereditary Angioedema (HAE)
Hives (Urticaria)
Sinusitis
Procedures & Services
Allergy Shots (Immunotherapy)
Allergy Tests
Epinephrine Auto-Injectors
Food Challenge Test
Lung Function Tests
Patch Testing for Contact Dermatitis
Tips & Wisdom
Allergy Shots - The Basics
Allergy shots can be used to treat seasonal and environmental allergies like molds, pollen, dust, and animal dander. We offer allergy shots for adults and children five years of age or older. We do not treat insect venom allergies or food allergies with shots. The initial phase of allergy shot treatment begins with an escalating dose of allergens with each shot. The patient will then stay on a maintenance injection every week for a year. After the first year, injections can be spaced to every...
Allergy Drops (SLIT)
With just three drops under the tongue daily, our customized allergy drops are just as effective as allergy shots. The best part about allergy drops is the convenience – they can be taken at home, on the go, or anywhere in between. Allergy drop can be self-administered. Most patients see relief in 9-12 months.
Patient Education Resources
Education & Training
Dr. Miriam Anand was educated at the following institutions:
B.A. - University of Colorado Psychology & German
University of Heidelberg, Germany - Medical Courses
University of Regensburg - Study abroad program
Arizona State University & Grand Canyon University - Medical education prerequisites
M.D. - George Washington University 1994-1998
Mayo Clinic, Scottsdale - Internal Medicine 1998-2001
National Jewish Medical Center - Allergy Immunology 2001-2003
Professional Affiliations
Aspire Allergy & Sinus

Aspire Allergy & Sinus is dedicated to providing diagnosis and treatment of allergies for Tempe, Chandler and Mesa Arizona, and surrounding communities. We treat each patient as a partner and make patient education a central component of medical care. Sensitivity and discretion are used in handling all of our patients' concerns.