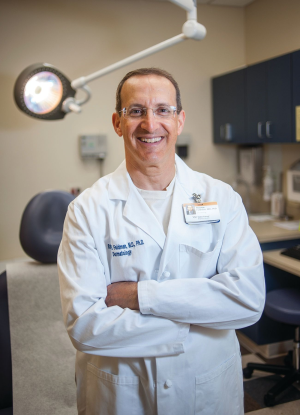 Dr. Steven Feldman, MD
---
Physician
Dermatology
---
Specialty
General Dermatology
Provide Feedback
---
Steven R. Feldman, M.D., PhD - Dermatologist
4618 Country Club Road
Winston Salem, North Carolina 27104
Website
Medical Expertise of Dr. Steven Feldman, MD
Dr. Feldman specializes in medical dermatology, diagnosing and treating a wide range of skin conditions. He has particular expertise in the treatment and management of psoriasis, including the use of biologic medications.

Dr. Feldman has also authored multiple publications regarding patient adherence, patient satisfaction and patient care and is actively involved in medical research.
About Dr. Steven Feldman, MD
Dr. Steve Feldman is Professor of Pathology (Anatomic Pathology) and Dermatology at Wake Forest Univeristy Baptist Medical Center.
Dr. Feldman also serves as Chief Medical Editor of Skin & Aging magazine, a professional publication for dermatologists, and is the founder of DrScore.
He is a member of the Medical Board of the National Psoriasis Foundation (NPF) and chairs that board's Subcommittee on Education. He also serves as the Director of the Foundation's Chief Resident's Meeting on psoriasis treatment.
Teaching: General Dermatology; Dermatopathology; Biochemistry of Skin
Research: Photoaging; Psoriasis; Health Services Research
Conditions Treated
Acne
Allergic Contact Dermatitis
Atopic Dermatitis
Psoriasis
Rosacea
Skin Cancer
Actinic Keratoses (AKs)
Psoriatic Arthritis
Procedures & Services
Biologic Medications for Psoriasis
Phototherapy for Psoriasis
Biologic Medications for Psoriatic Arthritis
Patient Education Resources
Education & Training
Undergraduate Degree: University of Chicago, BA 1980
Postgraduate Degree: Duke University School of Medicine, PhD 1985; Duke University School of Medicine, MD 1985
Medical Internship: Duke University Hospital 1986-1987
Residencies: Medical University of South Carolina 1990-1991; North Carolina Memorial Hospital 1987-1990
Fellowship: Dermatopathology
Steven R. Feldman, M.D., PhD - Dermatologist
The Department of Dermatology at Wake Forest School of Medicine strives to improve skin health in all patients; educate patients, students and residents about skin disease; and to improve skin health through research. As the region's leading dermatology department, we provide top-notch training for future practitioners of dermatology and a productive setting for basic and applied research on diseases of the skin.