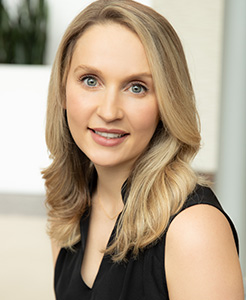 Dr. Juliet Gibson, MD
---
Physician
Dermatology
---
North Dallas Dermatology Associates
8144 Walnut Hill Lane, Suite 1300
Dallas, Texas 75231
Website
Medical Expertise of Dr. Juliet Gibson, MD
Dr. Gibson's professional interests include the early detection and management of skin cancers; the treatment of acne and rosacea, melasma, psoriasis, and hair loss; and cosmetic treatments including neuromodulators, dermal fillers, and laser and energy-based devices.
About Dr. Juliet Gibson, MD
Dr. Juliet Gibson is a board-certified dermatologist providing care at North Dallas Dermatology Associates.
Care Philosophy
"I want all of my patients to look and feel their best, and I take a comprehensive approach that includes medical as well as cosmetic dermatology. I take the time to give my patients different treatment options and help them choose which one is best for their lifestyle. My relationship with patients is the best part of my job."
Conditions Treated
Acne
Aging Skin & Wrinkles
Allergic Contact Dermatitis
Atopic Dermatitis
Hair Loss (Balding)
Psoriasis
Rosacea
Seborrheic Keratosis
Skin Cancer
Warts
Patient Education Resources
Education & Training
Juliet Gibson, MD FAAD is a native of Los Angeles. She graduated Phi Beta Kappa from Stanford University before obtaining her medical degree from Yale School of Medicine, where she spent an extra year in a research fellowship on cutaneous oncology. Dr. Gibson completed her medical internship at Harvard's Beth Israel Deaconess Medical Center before moving to Dallas, where she completed her dermatology residency at UT Southwestern.
Dr. Gibson has authored numerous peer-reviewed publications in journals and medical textbooks including the Journal of the American Academy of Dermatology, Journal of the American Medical Association (JAMA) Dermatology, and Dermatologic Surgery. She is an Adjunct Assistant Professor at UT Southwestern. She has presented at international, national, and regional dermatology conferences, and she received an award from the American Society of Dermatologic Surgery (ASDS) to train under national leaders in the field of cosmetic dermatology. In addition, Dr. Gibson received the ASDS Cutting Edge Research Grant for her research into the safety of cosmetic procedures at medical spas.
Professional Affiliations
North Dallas Dermatology Associates

WELCOME TO NORTH DALLAS DERMATOLOGY ASSOCIATES
Effective cosmetic, surgical and medical dermatology requires extensive training and experience. That's why the members of North Dallas Dermatology Associates have dedicated themselves to consistent education and training, which they put to use through today's most advanced dermatology treatments. Each physician has the experience to carefully examine your skin in order to provide you with the best possible regimen for your skin type and lifestyle.
Our philosophy is to have healthy skin throughout a lifetime, which is why our approach is both preventative and restorative. Let our board-certified dermatologists, PAs and licensed aestheticians help you attain healthy and beautiful skin! Our board-certified physicians include: Mary Hurley MD, Rebecca Marcus MD, Juliet Gibson MD, Shadi Damanpour MD, and our PAs include: Catherine Millet PA, and Cynthia Trickett, PA.
Our providers have treated thousands of patients with skin conditions including skin cancers, acne, complexion problems, allergic rashes, nail and hair disorders, infections, lupus, and other autoimmune skin diseases. Our practice offers a comprehensive array of cosmetic treatments to improve the health and appearance of your skin including CoolSculpting, microdermabrasion, chemical peels, facials, QWO for cellulite, Botox Cosmetic®, and dermal fillers. We also offer the latest in laser technology such as RF microneedling, photo-rejuvenation, laser hair removal, ablative and non-ablative fractional laser resurfacing and combination treatments such as Photo-Fractional.