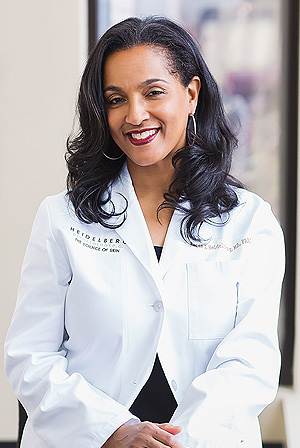 Dr. Karen Heidelberg, MD
---
Physician (MD, DO)
Dermatology
---
Heidelberg Dermatology P.C.
20400 Livernois
Detroit, Michigan 48221
[MAP]
Website
Medical Expertise of Dr. Karen Heidelberg, MD
Diagnosis and treatment of skin conditions, including acne, eczema, rosacea, psoriasis and skin cancer.
About Dr. Karen Heidelberg, MD
Karen A. Heidelberg, M.D. is a board certified Dermatologist. She received her medical degree from the Howard University College of Medicine, and completed her internship in internal medicine at George Washington University Hospital. And while completing her Dermatology residency at the Mayo Clinic in Rochester, MN, she received recognition for excellence in patient care.

In addition to her practice, she is a faculty member of the St. Joseph Mercy Hospital Dermatologic residency, where she trains residents. She is also sought after to teach both residents and medical students affiliated with other institutions, and has been honored with several teaching awards.

Dr. Heidelberg is a member of the National Medical Association, the American Medical Society, Michigan State Medical Society, Detroit Medical Society, the American Academy of Dermatology, Michigan Dermatologic Society, and the Women's Dermatologic Society. She has served on several committees of the American Academy of Dermatology, and currently serves on several boards.

Conditions Treated
Acne
Aging Skin & Wrinkles
Allergic Contact Dermatitis
Atopic Dermatitis
Hair Loss (Balding)
Psoriasis
Rosacea
Seborrheic Keratosis
Skin Cancer
Warts
Education & Training
Residency: Mayo School of Graduate Medical Education
Internship: George Washington University
Medical School: Howard University College of Medicine
Professional Affiliations
Heidelberg Dermatology P.C.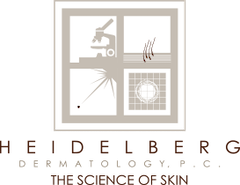 Welcome to Heidelberg Dermatology, P. C. Heidelberg Dermatology is a full service dermatology practice. We focus on helping our patients achieve healthy and beautiful skin, hair and nails. Our approach enables our patients to preserve their natural beauty throughout life. We are committed to providing the highest level of patient care and satisfaction.

Your skin is our science. Our proven methods come from a combination of the best training, over 45 years of experience, along with over 1.5 million patient visits to our practice.