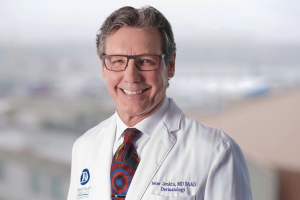 Dr. Peter Jenkin, MD
---
Physician (MD, DO)
Dermatology
---
Dermatology Associates, PLLC
1730 Minor Avenue
10th Floor
Seattle, Washington 98101
[MAP]
Website
About Dr. Peter Jenkin, MD
Dr. Peter Jenkins, MD is board certified dermatologist providing care at the Dermatology Associates of Seattle.
From reminding his patients to use sunscreen on a daily basis to skillfully performing advanced medical and cosmetic procedures, Dr. Jenkin approaches his work with his philosophy to accomplish and learn every day, to keep a positive outlook, to take knowledge from adversity, and to maintain an attitude of gratitude.
In practice for more than 35 years, Dr. Jenkin approaches patient treatment with the goal of providing comprehensive dermatologic care to the highest standards available. He has served as chairman of the Ontario Medical Association and President of the Washington State Dermatology Association. He provides a full range of dermatologic care including adult and pediatric general dermatology, Mohs surgery, skin cancer surgery, and cosmetic dermatology. Dr. Jenkin is committed to providing all patients we serve with not only the best care available but the best service from beginning to end.
Conditions Treated
Acne
Aging Skin & Wrinkles
Allergic Contact Dermatitis
Atopic Dermatitis
Hair Loss (Balding)
Psoriasis
Rosacea
Seborrheic Keratosis
Skin Cancer
Warts
Tips & Wisdom
The Persistence of Sun Damage
My patients often ask me what they can do to make/keep their skin healthy. Without question, the number one thing we can do is use sunscreen-every day. But it has to be a sunscreen that does a good job blocking UVA. UVA penetrates deeply into the skin, causing virtually all the "aging' of our skin and most skin cancers. It also goes through windows, which is why we need to be using it daily. Eleven minutes of UV exposure does more damage than the skin can repair in 24 hours. After...
Frequent Handwashing and Hand Dermatitis
Hand dermatitis resulting from frequent handwashing has long been an occupational hazard for people like doctors, dentists, nurses, hairdressers etc. With the recommendations for frequent handwashing during the current Coronavirus epidemic, we are seeing a lot more cases of hand dermatitis in the general population. Hand dermatitis from handwashing typically occurs on the backs of the hands and not commonly on the palms because the palms have thicker, tougher skin. Washing the skin causes dry...
Education & Training
McGill University
Fellow of the Royal College of Physicians of Canada, Dermatology 1980

McMaster University
Medical Sciences,
Dermatology 1975

University of Western Ontario
Bachelor of Arts, Doctorate of Medicine 1972
Professional Affiliations