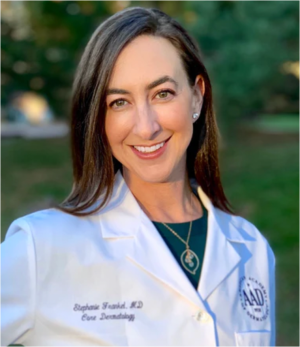 Dr. Stephanie Frankel, MD
---
Physician
Dermatology
---
Specialty
General Dermatology
---
Core Dermatology
425 S. Cherry St.
Suite 907
Denver, Colorado 80246
Website
Medical Expertise of Dr. Stephanie Frankel, MD
Dr. Stephanie Frankel is a board-certified Denver dermatologist providing care to patients for a variety of skin conditions, with particular expertise in the treatment of acne, eczema and psoriasis. Dr. Frankel also has expertise in skin cancer detection, prevention and treatment.
About Dr. Stephanie Frankel, MD
Dr. Frankel is the former chief of Dermatology at St. Joseph's Hospital and has lectured many future physicians on various skin-related subjects.
In 2018, she founded Core Dermatology in order to provide personalized dermatologic care for patients of all ages in a private practice setting.
Conditions Treated
Acne
Aging Skin & Wrinkles
Allergic Contact Dermatitis
Atopic Dermatitis
Hair Loss (Balding)
Psoriasis
Rosacea
Seborrheic Keratosis
Skin Cancer
Warts
Procedures & Services
Botox® Cosmetic
Juvederm®
Tips & Wisdom
Sunscreens
We recommend broad spectrum sunscreens that have UVB and UVA protection. You can find this written clearly on the bottle. It is best to wear at least SPF 30 and above and to reapply sunscreen every 2-3 hours. To adequately protect your skin, you need to use 1 oz of sunscreen (about a shot glass full). Sunscreen consistency and texture is a personal preference. It's important to find one that suits your preferences. We understand that one of the best things abo...
Patient Education Resources
Education & Training
After growing up in Denver, Dr. Frankel attended Yale University where she graduated Phi Beta Kappa with a BA in Anthropology. She then received her medical degree from Northwestern University in Chicago, IL. Finally, she completed her internship in Internal Medicine and residency in Dermatology at the University of Michigan before returning home to Colorado.
Core Dermatology
Core Dermatology was founded in 2018 by Dr. Frankel with the goal of providing comprehensive, compassionate, individualized dermatologic care. We want you to feel at ease, knowing that you're receiving expert, physician directed care. We aim to address your skin-related needs by treating all disorders of the hair, skin and nails. At Core Dermatology you will always receive up-to-date, evidence based treatment delivered in an efficient and cost effective manner. We believe the small practice feel is preferable to most patients, and strive to maintain an open dialogue with our patients about all aspects of their care.