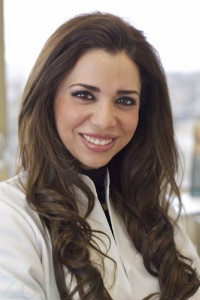 Dr. Tanya Kormeili, MD
---
Physician (MD, DO)
Dermatology
---
Provide Feedback
---
Tanya Kormeili, M.D., APC
1260 Fifteenth Street Suite 709
Santa Monica, California 90404
[MAP]
Website
Medical Expertise of Dr. Tanya Kormeili, MD
Diagnosis and treatment of skin conditions, including acne, eczema, rosacea, psoriasis and skin cancer.
About Dr. Tanya Kormeili, MD
Tanya Kormeili, MD, is a Board-Certified Dermatologist providing medical care to patients in the Los Angeles, CA area at Tanya Kormeili MD.

Dr. Kormeili's priority has and always will be her patients. She believes strongly in balancing strong and up-to-date medical knowledge with a comforting and supportive doctor-patient relationship. She is specialized in a wide range of dermatological conditions/treatments including cosmetic procedures, medical dermatology, skin cancers, laser surgery and other surgical procedures, including Mohs surgery, fillers, Botox, non-surgical facial rejuvenation, anti-aging treatments and other services that can provide her patients with glowing, healthy skin. As a Clinical Professor of Dermatology at UCLA's David Geffen School of Medicine, she brings together intensive clinical expertise with a dedication to providing her patients with a superior experience at her practice as well as an interest in educating the public on the most crucial areas of dermatology.

Dr. Kormeili has received extensive training in clinical research and has been a sub-investigator in various clinical trials presented to the Food and Drug Administration. An acclaimed expert in the field of dermatology, Dr. Kormeili lectures throughout the nation on a variety of topics pertaining to health and beauty. She has served as an expert and consultant to various companies that offer the latest advancements and products for the dermatology and cosmetics arena.
She holds two international awards from the Chilean Society of Dermatology and Venereology, and the XVI CILAD Congress of Dermatology in Colombia. She was also awarded for research she presented at the World Congress of Dermatology in Buenos Aires, Argentina in 2007. Dr. Kormeili has been published multiple times in peer-reviewed medical journals and book chapters. Two of her peer-reviewed publications in the British Journal of Dermatology has been translated into various languages and were among the most cited articles in dermatology.

In 2013, she was listed in the Los Angeles Magazine Best of LA, as a rising star in dermatology. In 2017, Expertise recognized Dr. Kormeili as one of the best dermatologists out of over eight hundred dermatologists in Los Angeles. In 2017, Dr. Kormeili was featured as an inspiring story in VoyageLA for her lifetime achievement.
In addition to her medical practice, Dr. Kormeili has a passion for international medicine. She serves on the Advisory Board Panel for Real Medicine Foundation, which provides humanitarian support to people living in disaster and poverty-stricken areas, and communities. Additionally, she is on the board of Directors for Grey Dove Inc., a non-profit organization devoted to promoting the common good in Third World countries, including Haiti, where Dr. Kormeili served as a medical missionary.
Conditions Treated
Acne
Aging Skin & Wrinkles
Allergic Contact Dermatitis
Atopic Dermatitis
Hair Loss (Balding)
Psoriasis
Rosacea
Seborrheic Keratosis
Skin Cancer
Warts
Education & Training
Medical School: University of California (UCLA)
Residency: University of California, Irvine

Tanya Kormeili, M.D., APC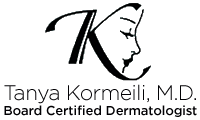 Dr. Kormeili is an internationally recognized dermatologist practicing in Los Angeles, with offices in Santa Monica. We offer comprehensive medical, surgical, and cosmetic treatments to keep you in your best skin health, year round. Whether you have a few unwanted wrinkles, a skin condition such as acne or rosacea, a more serious medical condition such as skin cancer that requires medical supervision, or if it's time for your annual skin cancer screening, we partner with you to promote your health and help you achieve your lifelong beauty goals. Dr. Kormeili addresses the unique needs and demands of various ethnic skin types, with medical services uniquely tailored to your skin's needs and your personal vision of beauty. We look forward to scheduling your next appointment!